**turn sound on and Mike will say "99.99.99" 3 times and then you'll see how annoying he is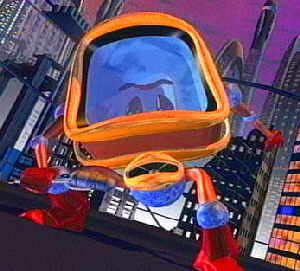 Mike is the ultimate in live TV. He doesn't just bring the world into Bob's living room - he walks into the living room himself and tells Bob what's showing on his screen, with the voice and mannerisms of an obnoxious, hyper-up, motor-mouthed emcee. Bob can't turn him off, because the remote control ran away. All Bob can do is try to escape. It isn't easy, since Mike can follow him all over Mainframe. Bob never knows when Mike is going to appear and bombard him with news, talk shows, bad soap operas, and commercials, commercials, commercials.

BUCKET O' NOTHING, YOURS FREE, FOR ONLY 99.99.99!!